This is a great Diet Level 4 cookie recipe, although it also fits nicely into DL's 1, 2, 3, and 6 (NOT DL 5, due to the inclusion of oats, so not grain-free). They are crispy-on-the-outside-soft-on-the-inside cookies. You can make these as chunky or smooth as you want, depending on how long you let the blender or food processor machine go. These cookies are made with raisins, but you could also substitute Lily's chocolate chips (see image below), which are made with Stevia and you would still be in the "sugar-free" diet-level realm! You can find them at HEB with all the other baking chocolate chips.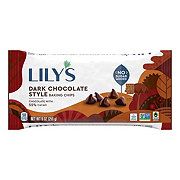 Preheat oven to 350 degrees.

Place dates and vanilla in a food processor or high-speed blender until smooth, about 1 minute. Add almonds until smooth, another minute or so.

Add in the oats, salt, cinnamon, baking soda, and oil, and process for another few minutes. You might need to stop periodically to scrape the sides in order to get the mixture to blend evenly. Add in the banana for 10 seconds.

Shape dough with a spoon into 20 cookies on 2 lightly greased cookie sheets and flatten slightly with a spatula.

Bake for 8-10 minutes, or until the edges are lightly brown.

Place on a cooling rack and store uneaten cookies in an airtight container.